VidMate apk download [Latest Update v5.0715 Jan 18, 2023]
VidMate app is a powerful application for android to download videos from YouTube, Facebook, Twitter, etc, and various other sites.
You can download the official VidMate app and install it directly from this Site free of cost.
RECOMMENDED: UC Browser boosts your download speed by 150% and blocks ads.
Features Of VidMate
Download videos from YouTube, Facebook, Twitter, and various other sites.
Watch live TV with more than 200 channels.
Fastest Download speeds.
Easy to use and navigate.
Vidmate memes- Share memes and enjoy memes shared by others.
Moment: TikTok functionality right on Vidmate
Vidmate apps: Download cool apps and games.
RECOMMENDED APP:
YouTube Vanced : Get YouTube premium for FREE with YouTube Vanced.
App Overview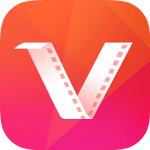 | | |
| --- | --- |
| Name | VidMate |
| Latest Version | 5.0715 |
| Updated On | Jan 18, 2023 |
| Size | 19.10 MB |
| Total Downloads | 500 Million+ |
| Ratings | 4.7/5 |
| Requirement | Android 4.0+ |
| Developer | Nemo Studio |
VIDMATE FOR ANDROID
Vidmate for android comes in .apk file. You are downloading apk file directly from our site. You can directly download to your android and install it or download it on your PC and transfer to your Android device later.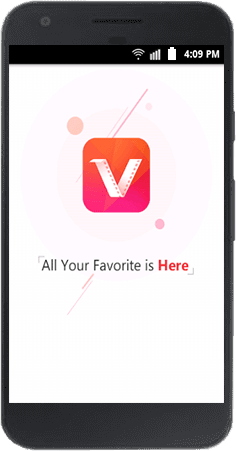 How to download and Install Vidmate apk FREE of cost?
Step 1
Download VidMate Apk. If your browser warns you on downloading apk, ignore it as you are downloading from the official VidMate site.
Step 2
After the download is complete, tap on the download completed notification to install.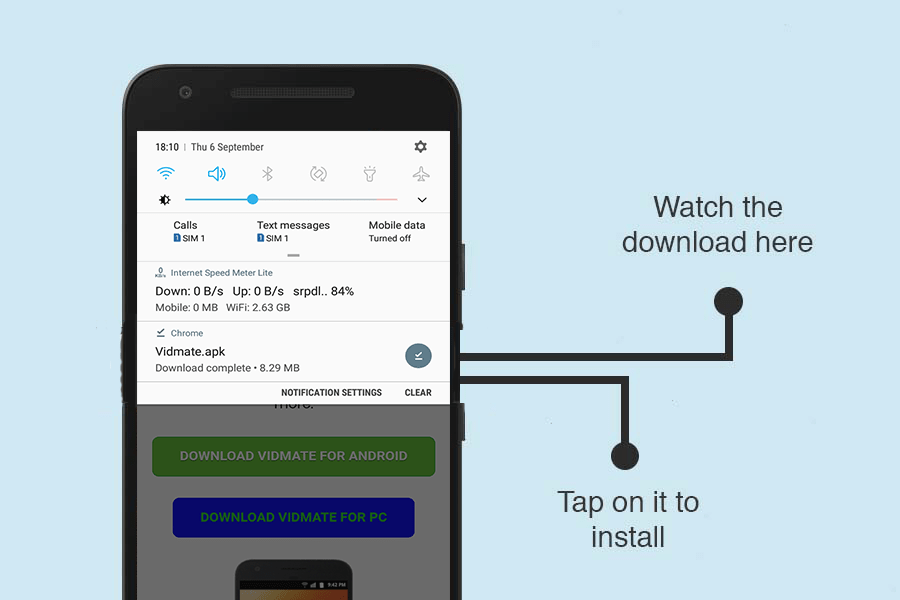 Step 3
If you are installing an app outside of Play Store for the first time, you may see an installed blocked message. Just tap on settings.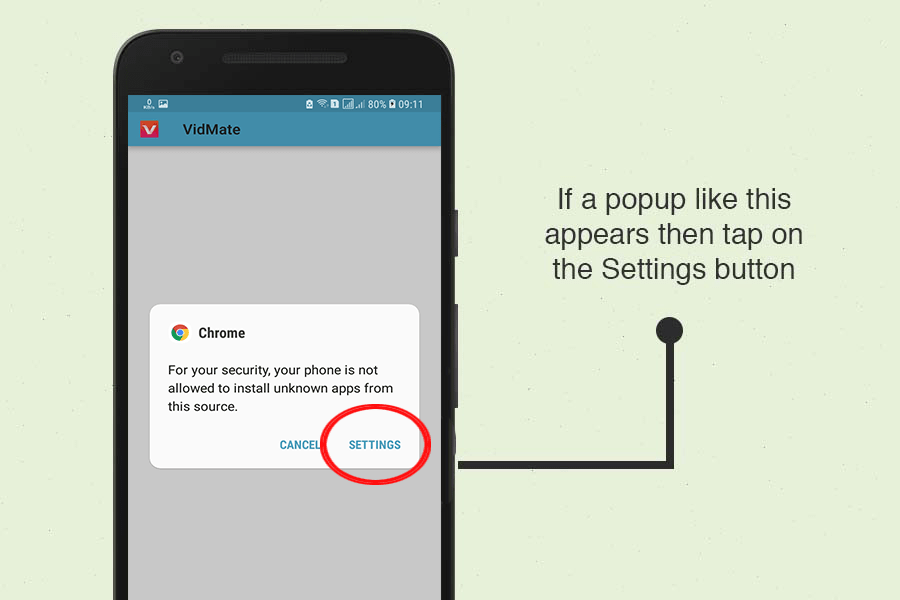 Step 4
For older versions of Android, you will see something like this after you tap on settings in the above screenshot: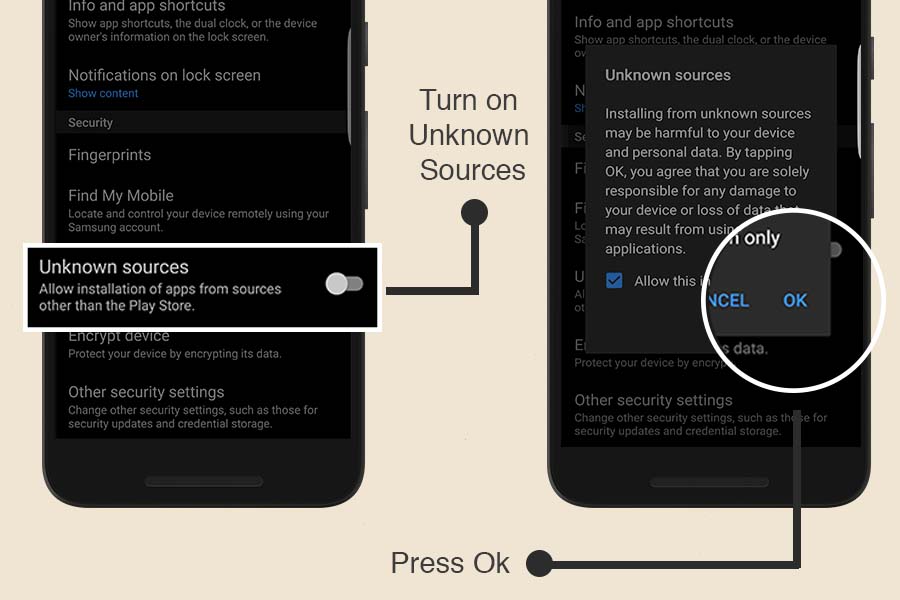 For newer versions of Android, tap on settings and allow the installation from browser/source you just downloaded the app. In my case, Chrome.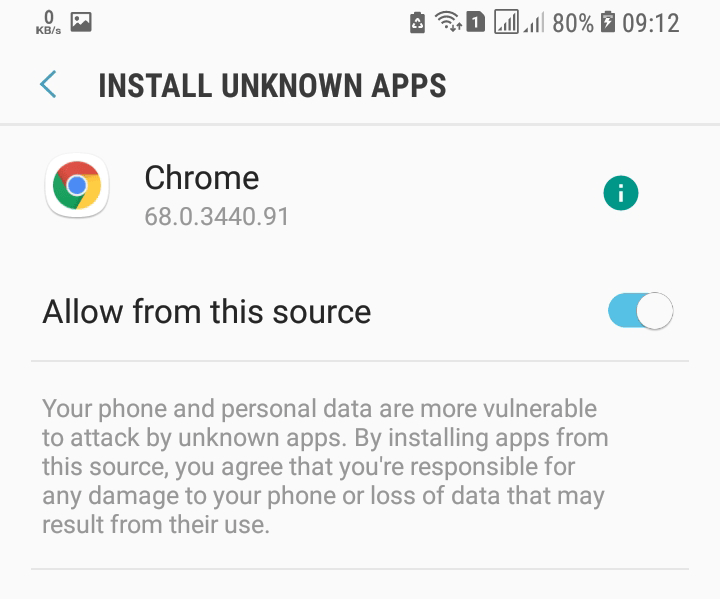 Step 5
Go back to the installation screen and you will see an install window. Tap on install and you are ready to explore the app after it gets installed.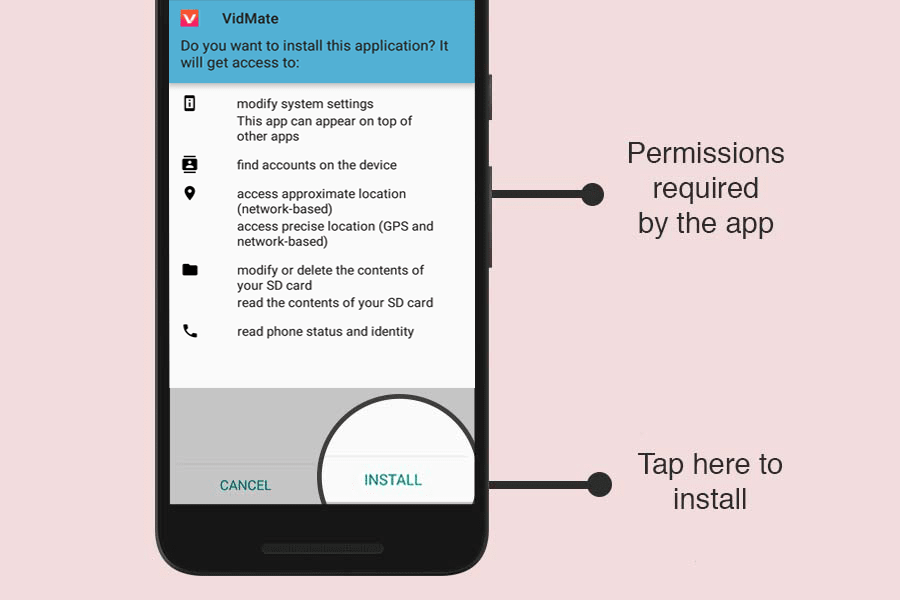 How to download videos?
Launch app on your device.
When it opens completely, you will see a search bar at the top along with top sites below it. You can also see suggested and trending videos on your home screen.
Now if you want any specific video to download search for it in the search bar. You can choose whether you want all results or just from YouTube or any other category.
Now click on the video title you want or tap on the download button. Then if you want to download it, tap on the red circular button at the right bottom corner.
Now select the quality of the video you want to download. The size of the video is shown on the side.
Tick on the file quality you want and tap download. Your video will be downloaded instantly.
SCREENSHOTS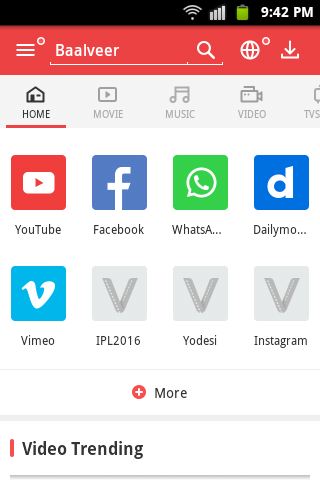 VIDMATE FOR PC [WINDOWS 7/8/8.1/10]
VidMate is an awesome app to download videos, songs, and many more. You can easily get Vidmate on your android phone but you can also get it on your PC too. Vidmate works well on android phones but most of the android phones have less storage because of which you may have problems downloading and storing movies if storage is full. Moreover, it is always better to watch movies and videos on the bigger screen of the laptop.

The main reasons or the benefits to download and use it on your PC are:
Much larger storage space available: In a PC or laptop, having 512 GB storage is normal and you can get up to 2 TB hard drive easily. Laptops with 256 GB or less hard drive are almost extinct. But in the case of android smartphones, the average storage is 8 GB and some devices rarely support up to 32 GB. So, you are getting 60-70 times more storage on PC than your android. You can store hundreds of movies, thousands of videos, hundreds of thousands of songs easily on PC.
Bigger screen – More amazing display- More fun: We love to watch movies in a cinema hall or theater more than on our TV. Why? It's simple because we love big screens. Watching on the big screen is always fun and amazing. We can see more details easily. Laptops or PCs have a much larger screen than android phones. So, it is not a big secret that watching movies and videos on a PC is more preferable than android.
Higher Resolution supported: Android phones, in general, are only useful to watch up to 720p resolution. If you want more, you must spend a lot of money. Moreover, because the screen is small on the mobile devices, you cannot find much difference between a 480p video, 720p video or 1080p video. It's just a slight variation to our eyes. But in PC, watching 480p, 720p or 1080p makes a lot of difference. You can enjoy higher resolution videos and movies on the PC.
We recommend you to use bluestacks among all these options because it is more popular as well as better than other alternatives. To download and use VidMate app on your PC and use it, please read the following steps:
Step 1: Download bluestacks for your PC and install it.
Step 2: Download apk file of VidMate For PC
Step 3: Now open bluestacks on your PC.
It may take up to 40 seconds, depending upon the performance of your PC to get started on bluestacks.
Step 4: On top of bluestacks you can see "My apps", "App center" and "support" tabs.
Step 5: Click on My apps after bluestacks fully starts which is notified by a loading thread on the bottom.
Step 6: On the My apps screen, you can see a + (plus) sign along with "choose apk" below it. Click on this item.
Step 7: Now it will open the window where you can select the downloaded vidmate.apk file and wait some seconds to finish installing.
Step 8: Now VidMate will be installed on bluestacks. Enjoy downloading movies and videos on your PC.

Disclaimer: This site is aimed to share the official VidMate app from the developers. We are not the developer of the app.