VidMate apk download [Latest Update v4.0803  March 18, 2019]
VidMate app is a powerful application for android to download videos from YouTube, Facebook, Twitter, etc and various other sites.
You can download VidMate app and install it directly from our official Site free of cost.
Features Of VidMate
Download videos from YouTube, Facebook, Twitter and various other sites.
Watch live TV with more than 200 channels.
Fastest Download speeds.
Easy to use and navigate.
App Overview
| | |
| --- | --- |
| Name | VidMate |
| Latest Version | 4.0803 |
| Updated On |  18 March, 2019 |
| Size | 13.43 MB |
| Total Downloads | 500 million |
| Rating | 4.7/5 |
| Requirement | Android 4.0+ |
| Developer | Nemo Studio |
VIDMATE FOR ANDROID
Vidmate for android comes in .apk file. You are downloading apk file directly from our site. You can directly download to your android and install it or download it on your PC and transfer to your android device later.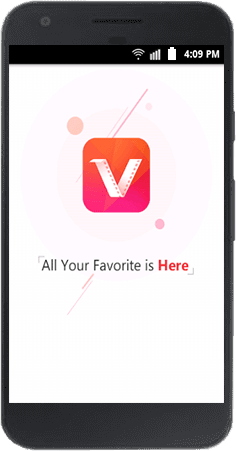 How to download  and Install Vidmate apk FREE of cost?
Step 1
Download VidMate Apk. If your browser warns you on downloading apk, ignore it as you are downloading from the official VidMate site.
Step 2
After download is complete, tap on the download completed notification to install.
Step 3
If you are installing app outside of Play Store for the first time, you may see an installed blocked message. Just tap on settings .

Step 4
For older versions of android, you will see something like this after you tap on settings in above screenshot:
For newer version of android, tap on settings and allow the installation from browser/source you just downloaded the app. In my case, Chrome.
Step 5
Go back to installation screen and you will see an install window. Tap on install and you are ready to explore the app after it gets installed. 
How to download videos?
You can easily download videos. Follow each step below to use it properly:
1) Launch app on your device.
2) When it opens completely, you will see search bar at the top along with top sites below it. You can also see suggested and trending videos on your home screen.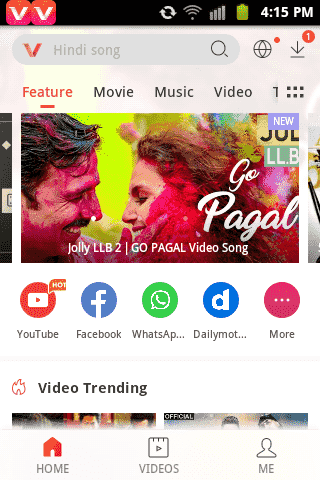 3) Now if you want any specific video to download search for it in the search bar. You can choose whether you want all results or just from YouTube or just movies, etc.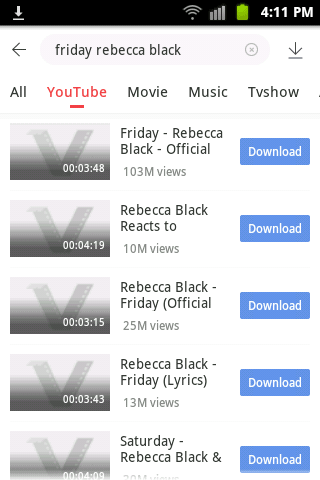 4) Now click on video title you want or tap on download button. Then if you want to download it, tap on the red circular button at the right bottom corner as seen below.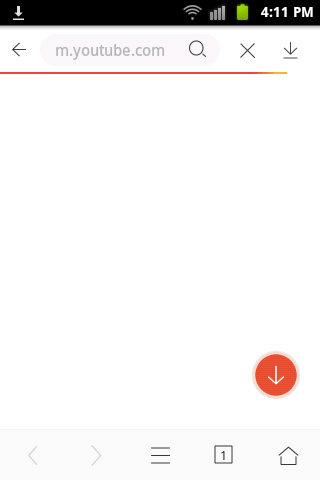 5) Now select the quality of the video you want to download. The size of the video is shown in the side.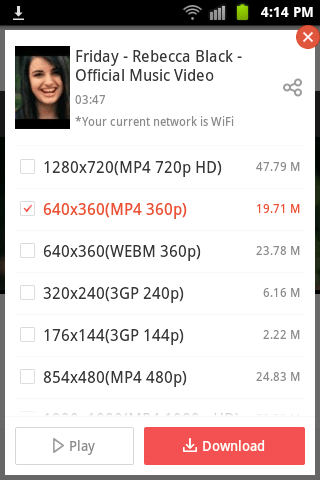 6) Tick on the file quality you want and tap download. Your video will be downloaded instantly.
How to view downloading status of videos?
To view the downloading status, you can directly see on the notification bar. Just scroll it down and you will see there. You can tap  on the video to open in the app.
If you want to view downloading status from app itself:
If you have any download running, you can see the total number of downloading videos on top right.
Tap on the icon and you will see the downloading videos.
If you want to delete the video, tick the video and tap on delete.
How to speed up downloading?
You can speed downloading speed just by a simple click. You can simply follow following step to speed up your download speed. But before going to that, please remember that actual speed depends upon your internet speed. In some condition, the following steps work significantly while in some case it may not work. Please try this out but we cannot confirm 100% of the results.
Go to "Me" tab.

Tap on the first option (Settings).
Now Go To Download settings.
Now scroll down to find fast download mode and turn it on.

You can go to fast download option and set it to 4. Now your download speed will be significantly higher.
How to view memes on vidmate?
In vidmate , you can enjoy a lot of memes and jokes as well as photos. It is extremely easy to use and you can easily find the memes on the app. But in case you have problems finding it or you want to know in advance how to view memes, please continue reading.
Note: To view memes, you should set your location in your application to India or southeast Asia. To do this open vidmate on your pone. At bottom of the app, you will see Home , videos, me. Go to Me tab. Now you can see Content location on the list of item. Tap on this option and you will see various regions to select. On this section select India and Southeast Asia. It will ask you to restart with new changes. Just tap restart and you are ready to view memes.
To view memes, please follow steps.
After you launch vidmate, at the top you will see "feature", "movie", "music", etc. tabs.
In those tabs, you can swipe towards left to get more tabs.
After you see meme tap on it.
It may take time to load images. You can view popular or new memes as well as download the meme.
To download any meme on your android phone from the app, just tap on the down sign (⇓) on the bottom-right side of the meme.
You can also generate or create your own meme and be popular. You can also upload meme anonymously-meaning nobody will know you have uploaded it i.e. your identity is hidden.
To create a meme, all you need to do is:
In the meme tab, you will see a "make a meme" button. Tap on it.
Now you can either take a live picture to make a meme or you can choose an existing picture from your gallery to get started.
After you choose the picture there are various options available to edit the photo. You can add text, change brightness and other options to make your meme more interesting.
After you finish your work, you can finally upload your meme and make it available for the world to see.
UNIQUE FEATURES
1. Fastest Download speeds
With same internet connection, VidMate provides up to 200% faster speeds than similar other apps. It uses an advanced technology that helps you to get maximum capability of your internet speed. What it does is that it connects to the host multiple times from your single device which can improve your internet speed up to 5 times. You may think that this is not new technology, several other apps are already doing it. We agree. We are actually not doing a different thing, we are doing things differently. In simpler words, we are using similar technology but improved one.
2. User-friendly Interface
This app provides a lot of features which is obviously difficult to manage but we have done it beautifully and systematically which doesn't only make it easy to use but also makes it extremely beautiful to look at. So, even a first time user can easily use it and get used to it.
Moreover, we are providing you a complete guide on using it which should help you a lot on using it if you are new to it.
3. Unlimited Free Full Movies Download
It searches for the movies on the internet and collects them just for you so that you can download unlimited full new movies directly to your mobile devices  free of cost.
4. High Quality Music download
You can download hundreds of thousands of High Quality songs directly. You can download English, Hindi, Telugu, Bahasa and many more songs directly to your android.
5. Live TV Channels
There are many apps that claim to provide live TV channels but it's sad to know that most of them are fake or require money to watch. We are introducing you a unique feature to watch more than 200 live TV Channels, covering Movie, Music, Fashion, News, Entertainment, Sport, and many other kinds of channels. This is one of the feature which you may never be able to find in other apps free of cost. Those TV channels load faster so that you can enjoy free live TV channels even on the slow internet.
VIDMATE FOR BLACKBERRY
VidMate can now be installed and used on BlackBerry device. If your blackberry runs OS 10.2.1 or higher you can install android apps on your device. You can follow steps below to get on your BlackBerry.
Download apk file from links above.
Go to the settings f your blackberry device and allow "Installation from unknown sources".
Now your blackberry device is ready to install apk file. You can now tap on the downloaded apk file.
It will open an installer window. You can accept the permission and click Next.
Now it will be installed. You can open it and enjoy.
VIDMATE FOR PC [WINDOWS 7/8/8.1/10]

VidMate is an awesome app to download movies, videos, songs, and many more. You can easily get Vidmate on your android phone but you can also get it on your PC too. Vidmate works well on android phones but most of the android phones have less storage because of which you may have problems downloading and storing movies if storage is full. Moreover, it is always better to watch movies and videos on bigger screen of laptop.
The main reasons or the benefits to download and use it on your PC  are:
Much larger storage space available: In an PC  or laptop, having 512 GB storage is normal and you can get up to 2 TB hard drive easily. Laptops with 256 GB or less hard drive are almost extinct. But in case of android smartphones, the average storage is 8 GB and some device rarely support up to 32 GB. So, you are getting 60-70 times more storage on PC than your android. You can store hundreds of movies, thousands of videos, hundreds of thousands of songs easily on PC.
Bigger screen – More amazing display- More fun: We love to watch movies on cinema hall or theater more than on our TV. Why? It's simple, because we love big screen. Watching on big screen is always fun and amazing. We can see more details easily.  Laptops or PCs have much larger screen than android phones. So, it is not a big secret that watching movies and videos on PC is more preferable than android.
 Higher Resolution supported: Android phones in general are only useful to watch up to 720p resolution. If you want more, you must spend a lot of money. Moreover, because the screen is small on mobile device, you cannot find much difference between a 480p video, 720p video or 1080p video. It's just a slight variation to our eyes. But in PC, watching 480p, 720p or 1080p makes a lot of difference. You can enjoy higher resolution videos and movies on PC.
How to install on PC?
Vidmate app for windows is not released yet and probably will never be available. So, you cannot install directly on your PC but you can install and use vidmate on your PC using our idea. For this, you need to install android emulator like bluestacks or andyroid on your PC first. These android emulators are just the software like other windows software which displays a similar interface as an android phone and you can install android apps. You can also understand as these android emulator software create an android phone in your windows PC or laptop and you can use every functions of an android device on your PC like installing android apps, installing and playing android games and many more.
We recommend you to use bluestacks among all these options because it is more popular as well as better than other alternatives. To download and use VidMate app on your PC and use it, please read following steps:
Step 1: Download bluestacks for your PC and install it.
Step 2: Download apk file of VidMate For PC 
Step 3: Now open bluestacks on your PC.
It may take up to 40 seconds, depending upon performance of your PC to get started on bluestacks.
Step 4: On the top of bluestacks you can see "My apps", "App center" and "support" tabs.
Step 5: Click on My apps after bluestacks fully starts which is notified by a loading thread on bottom.
Step 6: On the My apps screen, you can see a + (plus) sign along with "choose apk" below it. Click on this item.
Step 7: Now it will open the window where you can select the downloaded vidmate.apk file and wait some seconds to finish installing.
Step 8: Now VidMate will be installed on bluestacks. Enjoy downloading movies and videos on your PC.
FAQs
1. Is it free to use?
Ans. Yes. It is completely free of cost and there is no any hidden cost or any step or additional features that require your payment to unlock. If you find anybody selling VidMate or asking money to download, please report to us.
2. Is it available for iOS?
Ans. No. We haven't released an official iOS version. Considering monopoly of Apple Inc. on application distribution, it is unlikely that you will get it for iOS soon.
3. Is it available on Google Play?
Ans. No. It is not accepted in Google play because Google doesn't allow any app that can download videos from YouTube because they own YouTube too. So, it will never be available on Google Play but there are many fake VidMate there developed by the spammers. We recommend you to stay away from those spammers and download from our official site only.
4. Which is better: TubeMate or VidMate?
Ans. It is one of the most asked questions. You should understand that TubeMate was released first than VidMate. TubeMate allowed only to download YouTube videos, not even other sites like DailyMotion. Then VidMate came in that can do a lot more and a lot better. You can download full Movies, watch Live TV, download videos from several sites and it is optimized to give you smoother performance.
Alternative apps
Although vidmate is an all in one app and you can get everything you want, but sometimes you may want to test other apps if they are better in any way. Below is the list of apps that do similar task and you can test them and decide for yourself which app to use.
Tubemate
Tubemate sounds like vidmate and does some similar works but vidmate is more versatile than tubemate. Tubmate is mainly designed to download videos from tubemate but recently they have added other sites like Facebook from where you can download videos. If you want to download YouTube videos only, you can try tubemate. But there are many features you're going to miss due to switching to tubemate such as:
You cannot download movies.
Songs download option is not available in tubemate from other sites than YouTube.
TV shows like Game of thrones are not available in tubemate.
Many additional features such as live TV streaming with more than 200 channels, creating and viewing memes, downloading android apps, etc. are missing on tubemate.
Anyway, tubemate is also a decent app for people just to download videos from YouTube, Facebook and few other sites only.
Videoder is actually an alternative to tubemate. It does exactly same and somehow more task than tubemate. It can download YouTube videos, download them as mp3, as well as you can download videos from hundreds of other sites on internet. Overall videoder is a decent app but it still has a lot of less features than vidmate like full movie downloading, live TV streaming, etc.
You must be surprised to see a news app on the list of alternatives to video downloading app, right? It may sound confusing at first but UC News app is much more than just a news app. It allows you to watch videos in a lot of categories like Entertainment, Funny, Informative, and many more. UC News can be used to read news as well as watch trending videos too. So, UC News, if used along with vidmate, you won't miss a thing from internet any day.
SnapTube
SnapTube is another app to download videos from YouTube, Facebook and various other sites and is exactly same as Videoder and Tubemate with most of the feature from vidmate missing. SnapTube doesn't have any new feature or any unique function. It's the matter of personal preference. Some people will prefer SnapTube others will prefer Videoder. You can try both and keep one of them. It's really hard to tell which one is better.
Keepvid For Android
KeepVid, which was originally available for windows only, has now android version too. Some of the features of KeepVid include:
Free download HD video from YouTube, Facebook and many other sites.
Download Music: You can download YouTube videos in MP3 format with 320-Kbps quality. It is a useful feature as it lets you to save a huge memory on your device. Videos consume a lot of space than mp3. If you want to download only the song from YouTube, keep is a good option.
Multiple Download: With KeepVid video downloader, you can download multiple videos at one time.

Fast Speed: It provides high speed downloading of the video than normal browser.

Built-in Web Browser: You can visit video site and download video directly because it includes a built-in browser. You can browse videos like you do in Google Chrome, UC Browser, etc. or any other sites.
aTube Catcher
atube catcher, who have also released their android app, can download videos from web sites like YouTube, Dailymotion, Metacafe, and more than 100+ video sharing sites.
Final Verdict
Vidmate is the most popular video downloader for android but it is not the only one such app. There are many other alternative apps but no any app come closer to vidmate in terms of all these features in single app. Vidmate is the most versatile application for android and it provides the feature of at least 5 apps, so, is all-in-one app that every android phone users needs to install on their phone or tablet.
Related Articles:
How to download and install VidMate App for PC- Windows 7/8/8.1/10?