FREE Download VidMate Apk 3.22 [Latest: August 19, 2017]:
VidMate app is an easy to use and powe3rful android tool to download videos from YouTube, Facebook, DailyMotion and many other sites as well as you can download full latest HD movies and series, Watch live TV, etc. for free.
Recommended App: UC News : Best News App for India and Indonesia.
DOWNLOAD VIDMATE FOR ANDROID                             DOWNLOAD VIDMATE FOR PC
Features 
Download Unlimited Full Bollywood, Kollywood, Hollywood or any other Movies for FREE.
Watch live TV with more than 200 channels.
Download millions of High Quality songs and albums for free.
Fastest Download speeds than any other similar tools.
Easy to use and navigate.
Similar App: Videoder
Name: VidMate
Version: 3.22 [Latest]
Updated On: 19 August, 2017
Size: 6.13 MB
DOWNLOAD VIDMATE FROM OFFICIAL SITE
VidMate For Android
Vidmate for android comes in .apk file. You are downloading apk file directly from our site. You can directly download to your android and install it or download it on your PC and transfer to your android device later.
In the settings tab of the app, you can choose the different sites you want to show up on the main interface which opens when you launch vidmate. By default, you only have shortcuts to the most popular ones (YouTube, Metacafe, Dailymotion, etc.), but you can add more than 20 different sites yourself from which you can download millions of movies, videos and songs.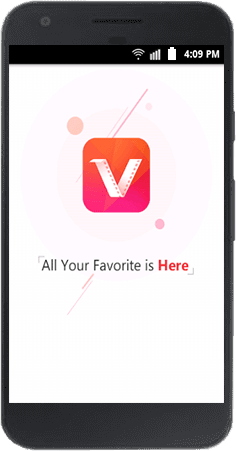 How to download Vidmate apk FREE of cost?
Install it. In case your device says "Installation blocked", allow installation from unknown sources in your device settings. (Just "in case")
Launch it and search for the video you want or browse any website.
Download video and enjoy.
What's New?
Version 3.21
1. Improved stability for better expereince.
2. Added more trending movies, songs, videos.
Version 3.19
Tubelight full movie is available for downloading (India)
Easier to share downloaded videos via Whatsapp
Solved the problem of launching VidMate with black screen
Version 3.16
Auto rotate to full screen while playing online videos
Improved the experience of Free Videos
Version 3.15
Fixed the problem that tasks disappear automatically in downloads list
2. Several improvements for better experience
Version 3.14
Faster & smoother to play short video
Fixed bugs to reduce failure of playing movie online
How to download videos in VidMate?
You can easily download videos. Follow each steps below to use it properly:
1) Launch app on your device.
2) When it opens completely, you will see search bar at the top along with top sites below it. You can also see suggested and trending videos on your home screen.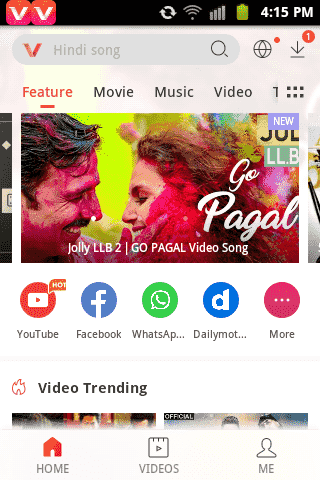 3)Now if you want any specific video to download search for it in the search bar. You can choose whether you want all results or just from YouTube or just movies, etc.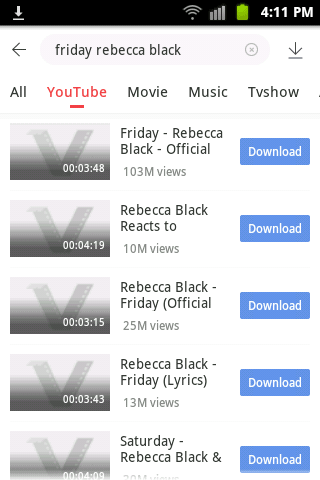 4) Now click on video title you want or tap on download button. Then if you want to download it, tap on the red circular button at the right bottom corner as seen below.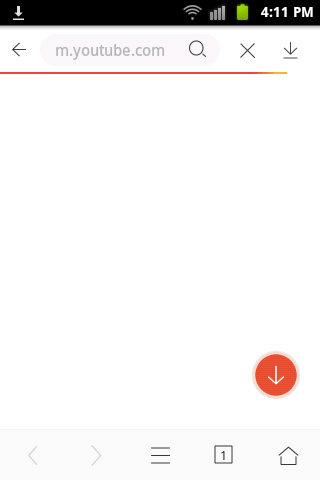 5) Now select the quality of the video you want to download. The size of the video is shown in the side.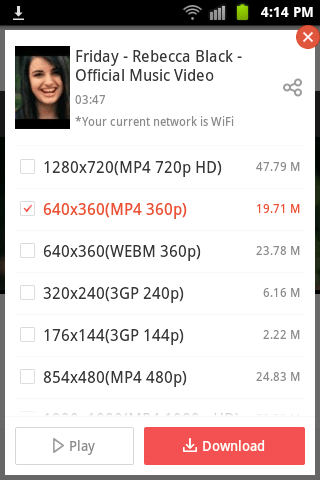 6) Tick on the file quality you want and tap download. Your video will be downloaded instantly.
HOW TO VIEW DOWNLOADING STATUS OF VIDEOS?
To view the downloading status, you can directly see on the notification bar. Just scroll it down and you will see there. You can tap  on the video to open in the app.
If you want to view downloading status from app itself:
If you have any download running, you can see the total number of downloading videos on top right.
Tap on the icon and you will see the downloading videos.
If you want to delete the video, tick the video and tap on delete.
HOW TO SPEED UP DOWNLOADING?
You can speed downloading speed just by a simple click. You can simply follow following step to speed up your download speed. But before going to that, please remember that actual speed depends upon your internet speed. In some condition, the following steps work significantly while in some case it may not work. Please try this out but we cannot confirm 100% of the results.
Go to "Me" tab.

Tap on the first option (Settings).
Now Go To Download settings.
Now scroll down to find fast download mode and turn it on.

You can go to fast download option and set it to 4. Now your download speed will be significantly higher.
Unique Features
1. Fastest Download speeds
With same internet connection, Vidmate provides up to 200% faster speeds than similar others apps. It uses an advanced technology that helps you to get maximum capability of your internet speed. What it does is that it connects to the host multiple times from your single device which can improve your internet speed up to 5 times. You may think that this is not new technology, several other apps are already doing it. We agree. We are actually not doing a different things, we are doing things differently. In simpler words, we are using similar technology but improved one.
2. User-friendly Interface
This app provides a lot of features which is obviously difficult to manage but we have done it beautifully and systematically which doesn't only make it easy to use but also makes it extremely beautiful to look at. So, even an first time user can easily use it and get used to it.
Moreover, we are providing you an complete guide on using it which should help you a lot on using it if you are new to it.
3. Unlimited Free Full Movies Download
It searches for the movies on the internet and collects them just for you so that you can download unlimited full new movies directly to your mobile devices  free of cost.
4. High Quality Music download
You can download hundred of thousands of High Quality songs directly. You can download English, Hindi, Talegu, Bahasa and many more songs directly to your android.
5. Live TV Channels
There are many apps that claim to provide live TV channels but its sad to know that most of them are fake or require money to watch. We are introducing you an unique feature to watch more than 200 live TV Channels, covering Movie, Music, Fashion, News, Entertainment, Sport, and many other kinds of channels. This is one of the feature which you may never be able to find in other apps free of cost. Those TV channels load faster so that you can enjoy free live TV channels even on the slow internet.
VIDMATE FOR BLACKBERRY
Vidmate can now be installed and used on BlackBerry device. If your blackberry runs OS 10.2.1 or higher you can install android apps on your device. You can follow steps below to get on your BlackBerry.
Download apk file from links above.
Tap on the downloaded apk file.
It will open an installer window. You can accept the permission and click Next.
Now it will be installed. You can open it and enjoy.
VIDMATE FOR PC [WINDOWS 7/8/8.1/10]

You cannot install directly vidmate on your PC. So, you need to install android emulator like bluestacks or andyroid on your PC first. We recommend you to use bluestacks.
To download and use vidmate app on your PC and use it, please read following steps:
Step 1: Download bluestacks for your PC and install it. To download bluestacks from official site, click Here.
Step 2: Download apk file of Vidmate For PC 
Step 3: Click on the apk file to Install it on Bluestacks of your PC. Or you can Right click and select "Open with bluestacks" if you have multiple programs that can run android apps.
Step 4: Now VidMate will be installed on bluestacks. Enjoy downloading movies and videos on your PC.
FAQs
1. Is it free to use?
Ans. Yes. It is completely free of cost and there are no any hidden cost or any step or additional features that require your payment to unlock. If you find anybody selling VidMate or asking money to download, please report to us.
2. How does VidMate makes money then?
Ans. VidMate relies on the ads shown on the app via Google Admob to make any money. It helps for further development of the project.
3. Is it available for iOS ?
Ans. No. We haven't released an official iOS version. Considering monopoly of Apple Inc. on application distribution, it is unlikely that you will get it for iOS soon.
4. Is it available on Google Play?
Ans. No. it is not accepted in Google play because Google doesn't allow any app that can download videos from YouTube because they own YouTube too. So, it will never be available on Google Play but there are many fake Vidmate there developed by the spammers. We recommend you to stay away from those spammers and download from our official site only.
5. Which is better : TubeMate or VidMate?
Ans. It is one of the most asked questions. You have to understand that TubeMate was released first than VidMate. TubeMate allowed only to download YouTube videos, not even other sites like DailyMotion. Then VidMate came in that can do a lot more and a lot better. You can download full Movies, watch Live TV, download videos from several sites and it is optimized to give you smoother performance.